Poster Art Contest Winner & Printable Poster
Congratulations to Penelope D., a fifth grader at Ludlow elementary as the winner of the 2023 poster art contest. Check out other contest winners below!
All Past Posters
Printable Poster
2023 Contest info and template
Writing Contest Winning Poem
Juliette B. Grade 8, Worcester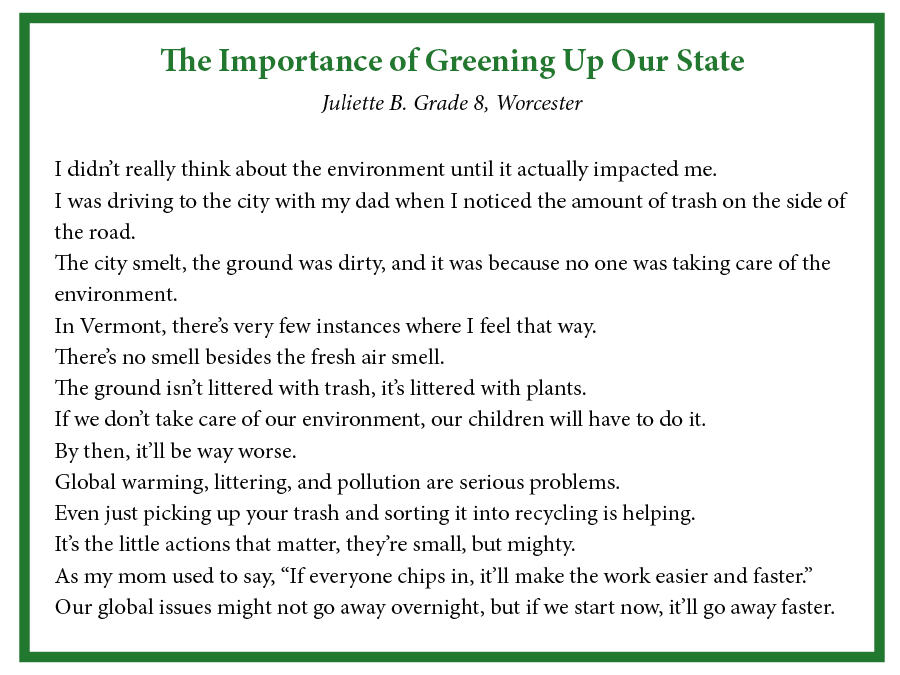 Congrats to Jingle contest winner 5th grader, Rene S. from Groton. Listen to the Green Up Day Jingle winner here!
The Video Contest
Ends in a tie!
Congratulation to Ms. E's 4th grade class at Jericho Elementary for this educational piece about Green Up Day.
AND to Cameron J. and JJ H. who modified the lyrics of one of our favorite baseball tunes for Green Up Day entertainment.
?? What to
Recycle

?? • ?? How to

Compost

??

Our friends at the Vermont Department of Environmental Conservation have supplied these great cheat sheets to answer. If you have further questions about State guidelines visit vtrecycles.com.