Poster Art Contest Winner & Printable Poster
Congratulations to Penelope D., a fifth grader at Ludlow elementary as the winner of the 2023 poster art contest. Check out other contest winners below!
All Past Posters
Printable Poster
2024 Contest info
Writing Contest Winning Poem
Juliette B. Grade 8, Worcester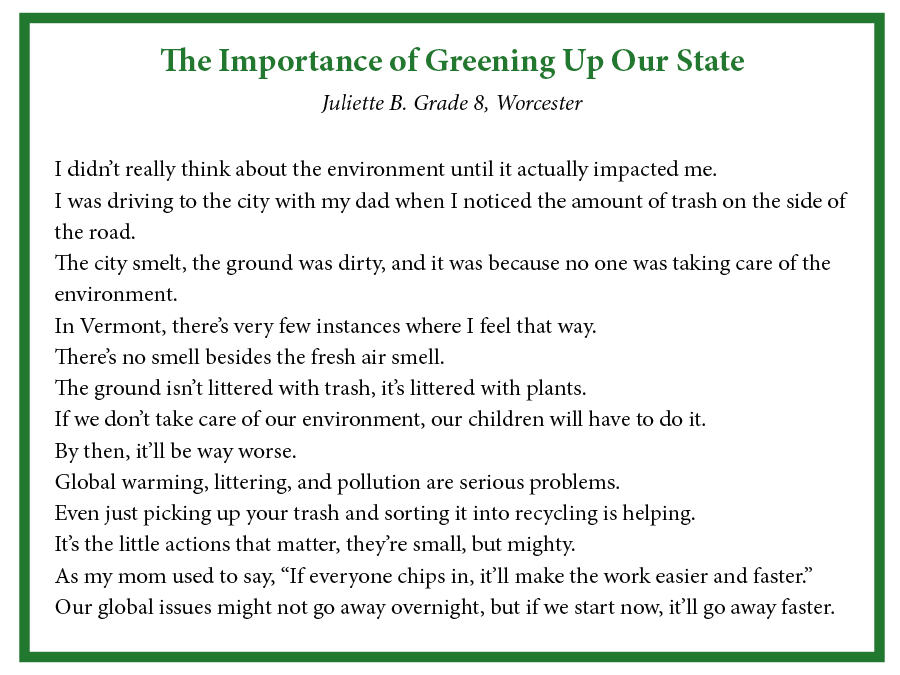 Congrats to Jingle contest winners Rene S., Ainsley K., Elliott K. & Casey K.. Listen to the Green Up Day Jingle winner here!
The Video Contest
These Kids
Get It
The 3rd/4th-grade class at Reading Elementary know and show the importance of picking up litter from the environment and how it can save our States wildlife. They did a great job learning the State song and creating costumes to get their message across. Special thanks to all the teachers involved as well – classroom, art, music, and video production. What a wonderful effort by all.
?? What to
Recycle

?? • ?? How to

Compost

??

Our friends at the Vermont Department of Environmental Conservation have supplied these great cheat sheets to answer. If you have further questions about State guidelines visit vtrecycles.com.